Kriya is double Cho Ku Rei symbol, one clock wise and the other anti clock wise, is used for achieving goal, fulfill dream and vision into action. It basically guide your path through life. Practically it is used for physical manifestation and for healing the human race. Kriya is actually helpful in flowing your energy through all the Chakras. It make your chakras clean, clear and aligned.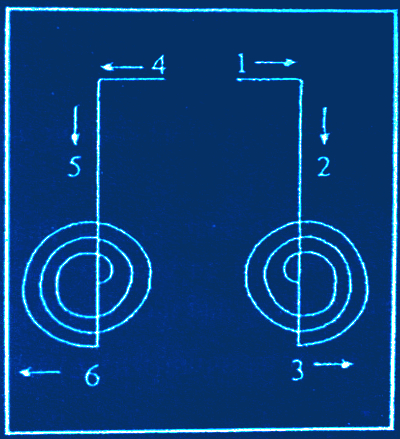 If somebody is not able to focus on his aim. Karuna symbol helps to find out his priority and focus on things that are important for achieving his goal in life. It helps the people on earth and heal them to work together in harmony.
Kriya is 2nd degree symbol in karuna reiki , which helps to manifest desire or ambition in life, and also help in fulfilling it.The two symbols helps in business, good result in exam, interview, profitable sale – purchase of assets, growing the wealth, flourishing the relationship with life partner or anybody. It is truly a powerful symbol.
Firstly draw Reiki symbol Kriya on the third eye chakra, give continuous reiki now visualizing the energy coming from the Universe. you can also draw in the sky and visualize your desire getting fulfill . It flows your energy through all the chakras and make your way clear for success. I experience a feeling of happiness, joy and connectivity or bond in my family. It gives a feeling of harmony in all chakras.
Kriya truly helpful in guiding your path through life in a practicle way
Latest posts by Ritu Guglani
(see all)